Luck Stone Corporation is the US's largest family owned and operated producer of crushed stone, sand and gravel. At its plant in Leesburg, Virginia, Luck Stone Corporation will open a new quarry which is located to the West of 'Goose Creek' river.
A connection tunnel will be constructed to link the existing South pit with the new, future West pit. The tunnel's cross section is approximately 45 feet in diameter, and the tunnel's length is approximately 1275 feet. The tunnel will cross the 'Goose Creek' river approximately 50 feet beneath. The excavation method is drill & blast in hard rock (diabase).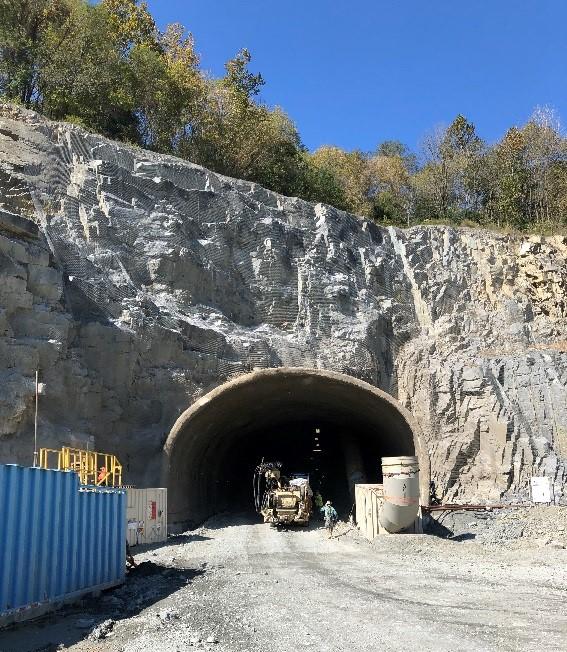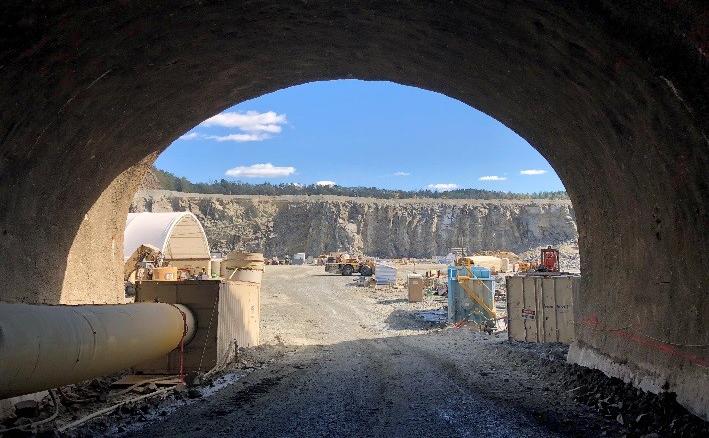 Dr. Sauer & Partners Corporation was awarded the design of the 'Goose Creek' crossing tunnel for Luck Stone Corporation. Tunnel works started in April 2018 with the construction of the East portal. During the construction period one Dr. Sauer & Partners Senior SEM Engineer, on behalf of Luck Stone Corporation, supervises all SEM activities, performs quality assurance services and coordinates all SEM related issues on site between the owner, the contractor and the contractor's consultant.
More than two-thirds of the tunnel top heading are excavated and supported. Tunnel excavation works passed the sensitive 'Goose Creek' river area ('Red zone' area) successfully without any problems. The rock condition under the river was better than predicted and no significant water inflow was encountered within this area. During tunnel excavation two fault zones were identified East of the Goose Greek river. The diabase rock is cross-cut diagonally by these faults, which are dipping against the advance. Both fault zones are water-bearing and a steady water inflow (minor to moderate) can be observed.  
Tunnel works have recently switched to bench excavation. Expected tunnel top heading break-through at the West pit is estimated for beginning of February 2019.