TfL has unveiled the completed £300 million upgrade of Bond Street Tube station, a key West End location and one of the busiest stations in Central London. Dr Sauer & Partners, as part of the Halcrow Atkins JV and wider "One Team", were an integral part of the delivery of the Upgrade Project. Our involvement ranged from conceptual (RIBA Stage D) designs for Atkins in 2010, detailed design services (RIBA Stages E, F, K) for Halcrow Atkins JV under the leadership of COLOR JV (Costain Laing O'Rourke) right through to a 24/7 site presence as Design Representatives throughout 2016/17

 
Key successes include the use of sprayed secondary linings, binocular tunnels to provide wide access passages and innovations to push the SCL design boundaries to create the additional underground spaces required. The design was developed around the confines of a busy existing station with minimal impact on the station operation.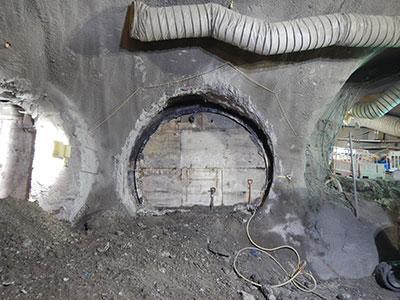 Brian Lyons of Dr Sauer & Partners says "The team is very proud of its achievements and the collaborative effort required to deliver this challenging scheme. The innovations and solutions have been transferred by Dr Sauer & Partners to other schemes such as Bank Station Capacity Upgrade project and further developed through lessons learned from the Bond Street team."
Shoppers, workers and visitors to the Capital will enjoy quicker, easier and more comfortable journeys through the station thanks to a 30 per cent increase in the capacity of the station following the opening of the new entrance and ticket hall on the north side of Oxford Street at Marylebone Lane.
The new entrance also provides step-free access for the first time at the station, making Bond Street the 72nd Tube station to become step-free and moving the Underground closer to the Mayor's target for 40 per cent of the network to be step-free by 2022. Both ends of Oxford Street are now served by step-free stations following the installation of new lifts at Tottenham Court Road station earlier this year. The four new lifts at Bond Street will make life easier for people with accessibility needs or those with luggage or heavy shopping.
Preparatory work to build a step-free interchange to the Elizabeth Line (Crossrail) has also been completed ahead of services calling at Bond Street station in December 2018, when it is expected that passenger numbers will increase to around 225,000 per day. The Elizabeth line station will also help ease crowding pressure at Oxford Circus Underground station, being located just 150m away.
Other benefits of the station upgrade at Bond Street Underground station include:
•    A new, spacious ticket hall with five new ticket gates;
•    Two new escalators, which will make it easier to exit the station which currently becomes congested at peak times;
•    Two new interchange tunnels to further ease congestion;
•    Increased Operational Area for London Underground by using un-used temporary access tunnels