Here at Dr. Sauer & Partners we are proud of the talented staff members we attract and retain within our organisation. We also recognise the importance and value in having a diverse workforce who we encourage to challenge technical boundaries within our projects and strive for innovation in their daily working lives. 

The diversity of our workforce has seen an increase in the number of women working for Dr. Sauer & Partners over the last six years and we are proud to share that 57% of our workforce in 2018 are women. Of these women, 62% are employed in a flexible working arrangement such as part time hours and shifts allowing them to work around family and personal commitments.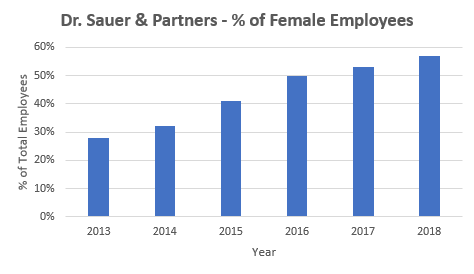 We have worked hard at making our Company one that female engineers want to come and work for – a strong focus on training and development, flexible working time arrangements for mums returning to work, family friendly employment policies and a strong focus on career development has helped attract more women to come and work for us and to remain working for the Company.
Our recruitment and retention strategies are to attract and retain ambitious, driven and innovative engineers who will make a difference to our industry and the projects that we work on. In return we commit to offering our employees a rewarding career where their training and development allows them to fulfil their professional goals and to work on some of the most high-profile tunnelling projects of their generation. We offer our employees generous employee benefits and provide flexible and family friendly working practices and policies. We work with leading Universities both in the UK and Europe to attract diverse and talented individuals and as a result continue to encourage more and more women to join our Company.