Dr. Sauer & Partners recently held its first North American Senior Staff Seminar in Galveston Texas, inviting the Senior Engineering staff of the Canadian and US offices. 
During the proceedings, Mr. Franz Wilhelmstoetter was officially introduced as the new Managing Director of the US operation. He shared his previous experiences and vision for future endeavours with the staff members present. Juergen Laubbichler officially handed over his role as long-term MD in the US and gave a rundown of the projects delivered in the past year in the US market.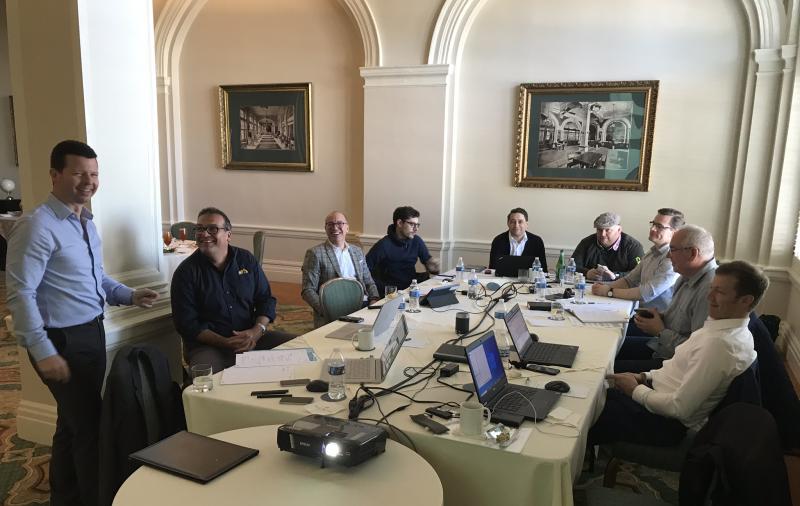 Gerald Skalla, MD for our Canadian office provided some details on projects, pursuits and opportunities in Canada where the company is involved in major SEM transit projects. Laurence Chaplin joined the team via video conference from the UK, delivering a presentation about the definition and status of BIM in the UK and on UK projects. Mr. Hussein Mohamed provided an insight for the US and introduced the team to parametric design for re-occurring tunnel structures such as headwalls, and cross passages.  
As a guest, the companies invited Mr. Mark N. Burack, VP Sales and Marketing of WJ Groundwater Canada in Toronto. He looked back on a diverse and successful history of sales spanning many years, multiple markets and products for companies of various sizes. His presentation discussed basic sales processes and principles, and in a workshop the team developed ideas for increasing the footprint of Dr. Sauer & Partners whilst maintaining its leading role in SEM/NATM design and engineering in North America.
It was a successful meeting, and as always a nice opportunity for colleagues that are based in different offices to spend some time together.